You might wonder why I didn't just compose properly when taking the shot. Well, in this case, I was doing a long-exposure shot without a tripod, so had the camera balanced on the edge of the pier for stability. That very much limited my ability to perfectly frame the moment, so I just shot wider, knowing I'd be able to crop the shot appropriately after the fact.
Let's look at what cropping looks inside a couple of the tools available.
Here's an example of cropping in Snapseed: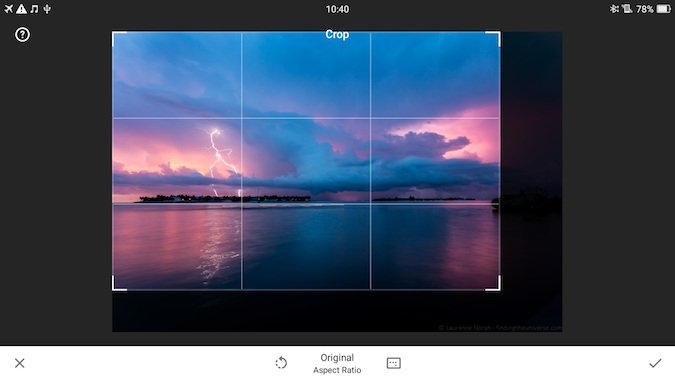 And the same thing in Lightroom: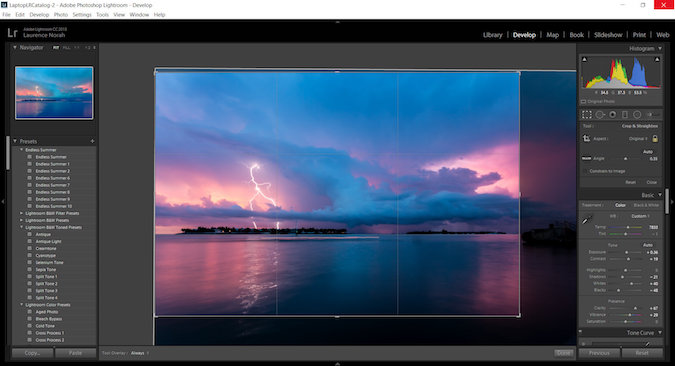 In both cases, cropping is very simple: it just involves you selecting the crop tool and then selecting the area you want to keep with your mouse or finger. Then you apply the changes, and voilà, your new cropped image is ready to go. As you see from this and later examples, the tools look similar across different platforms, so it's easy to apply the learning you have from one tool to another.
2. How to Level Your Travel Photos
One of my personal petty annoyances in photography is when the horizon line in a photo isn't level. Sometimes when we're caught up in the moment, this basic compositional rule is forgotten — but the good news is that editing your photos to make them level is also very easy.